导读:大暑是二十四节气中的第12个节气,在每年的阳历7月22日至24日,太阳到达黄经120°,表示天气酷热,最炎热时期到来。这时气温最高,雷阵雨较多,在中国很多地区,经常会出现摄氏40度的高温天气。民间有饮伏茶,晒伏姜,烧伏香等习俗。
现在大家都比较注重养生,在大暑这个时节也不会例外。那么,大暑应该如何养生呢?大暑养生的食谱有哪些? 接下来,大家就跟德小君一起来了解一下吧!
Great Heat is the 12th of the 24 solar terms. From July 22-24 in the solar calendar every year, the sun reaches 120° of the ecliptic latitudes, indicating that the weather is extremely hot, and the hottest period is coming. During this time, the temperature is the highest and there are more thunderstorms. In many parts of China, there are often high temperatures of 104°F (40°C).
大暑养生 Great Heat Nourishing
都说"小暑不算热,大暑三伏天",大暑时节最主要的特点就是高温和潮湿了,要想更好的过好大暑,要学会以下几种养生方法。
As the saying goes "Slight Heat is not too hot, Great Heat are the dog days of summer." The main feature of Great Heat is the high temperature and humidity. If you want to live through the Great Heat, you must learn the following regimen.
01、精神调养 Nourishing the Mind
大暑时节,天气酷热,人们容易心烦意乱、无精打采,有人称之为"精神中暑"。因此,要做好精神调养,谨守"静心养生"的原则。
During Great Heat, the weather is very hot, and people are easily upset and listless. Some people call it "mental heat stroke." Therefore, it is necessary to adhere to the principle of "meditation and health preservation".
所谓"心静自然凉",避免遇事急躁,避免生气恼怒,可多想轻松愉快的人或事,也可多参加钓鱼、绘画、书法等活动,可以达到安定神志、调养心气的作用。
"A calm mind keeps you cool" is to avoid irritability and anger. It is best to keep your mind relax and think happy thoughts. It is also recommended to participate in activities such as fishing, painting, calligraphy, etc., which can achieve the effect of calming your mind and conditioning your mind.
​02、起居调养 Daily Nourishing
大暑节气,天气炎热,此时要注意防暑,避免长时间在烈日下劳作,老人及体质虚弱者避免在正午烈日下出门,汗出后及时更换衣物,避免出汗后受凉感冒。
Due to the extreme hot weather during this solar term, it is important to pay attention to heatstroke prevention and avoid working under the scorching sun for a long period of time. The elderly and those with weak physique should avoid going out under the scorching sun at noon. Change clothes in time after sweating to avoid catching a cold.
同时,室内要注意通风,空调房间温度与室外温度相差不要超过10摄氏度,避免出汗后直对风扇或空调吹风,以免感冒。
At the same time, ensure to pay attention to indoor ventilation. Temperature difference between the air-conditioned room and outdoor temperature should not exceed 50°F (10°C). Avoid blowing directly
此外,大暑时气温高,比较炎热,人比较容易感到疲倦,所以,这时候要注意睡好午觉,适当的睡午觉可以保持精力充沛。
In addition, during Great Heat, the temperature is relatively hot, and people are more likely to feel tired. Therefore, it is necessary to take naps during the day as a proper nap can keep you energetic.
03、运动调养 Exercise Recuperation
大暑正处于"三伏天",天气炎热,此时宜少运动或选择低强度的运动项目,如散步、快步走、八段锦、太极拳等,宜在清晨或傍晚在清凉的公园、河边、林荫道旁进行,注意避免运动后大汗淋漓,运动过后要补充水分,但应避免进食冷饮,否则容易出现腹痛、腹泻等症状。
It is advisable to exercise less or choose low-intensity sports, such as walking, brisk walking, Tai Chi, etc. It is also recommended to spend the morning or evening in a cool park or river. Ensure to replenish water after exercise, but avoid consuming cold beverages, otherwise symptoms such as abdominal pain and diarrhea will easily occur.
04、饮食调养 Diet Recuperation
大暑不但天气炎热,而且雷电、暴雨多,此时人们容易受暑湿影响出现腹胀、食欲下降、乏力等症状,此时饮食宜清淡多样,以补气健脾、消暑生津为主,可多食绿豆、黄瓜、苦瓜、莲藕、鸭肉、冬菇、紫菜、西瓜、薏米、冬瓜、桂圆、桃子、黄皮、芦根、白茅根等食物及药食两用之品。
Not only is the weather being hot during Great Heat, but there are also thunder and heavy rain. People are prone to symptoms such as abdominal distension, loss of appetite, fatigue and so on. Diet should be light and varied, mainly to invigorate qi, invigorate the spleen, reduce heat, and promote fluid, and consume more mung bean, cucumber, bitter gourd, lotus root, duck meat, seaweed, watermelon, barley, longan, and other medicinal products.
​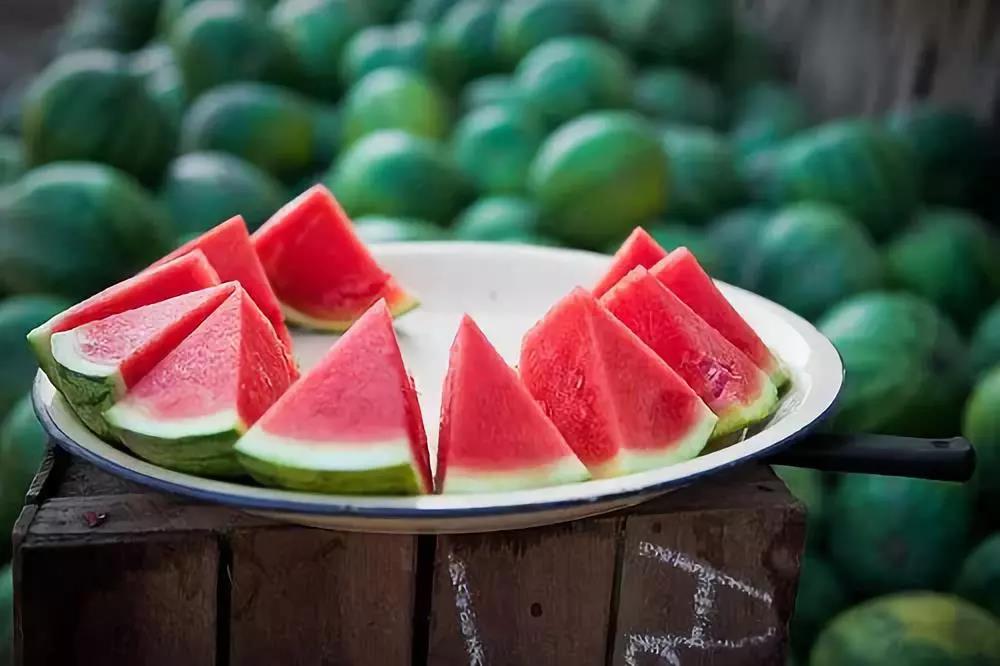 大暑养生食谱 Great Heat Diet
01、豆芽鸡丝 Bean Sprouts Shredded Chicken
制作原料:绿豆芽100克,仔鸡胸肉200克,麻油、精盐、味精、醋、白糖、姜、蒜瓣适量。
Ingredients: 100 grams of mung bean sprouts, 200 grams of chicken breast, sesame oil, salt, vinegar, sugar, ginger, and garlic cloves.
制作方法 Instruction
1、把生姜切成细丝,蒜除去皮捣成泥状,将鸡胸放入锅中煮到六成熟,之后捞出沥干切成丝。
Cut ginger into fine shreds, clean garlic and smashed into puree. Put chicken breasts in a pot and cook until medium well done. Then remove chicken from pot and cut into shreds.
2、绿豆芽去头脚洗净,放进开水锅内略烫,捞出沥干,也装入盛鸡丝的盘内,用适量的醋、麻油、白糖、精盐、姜丝、蒜泥调成卤汁,浇入盘内,拌匀入味即可。
Wash mung bean sprouts, boil in hot water for a few minutes, remove then drain them and put them together with the shredded chicken. Use appropriate amount of vinegar, sesame oil, sugar, refined salt, shredded ginger, and garlic. Pour the marinade into the plate and mix well, and ready to serve.
​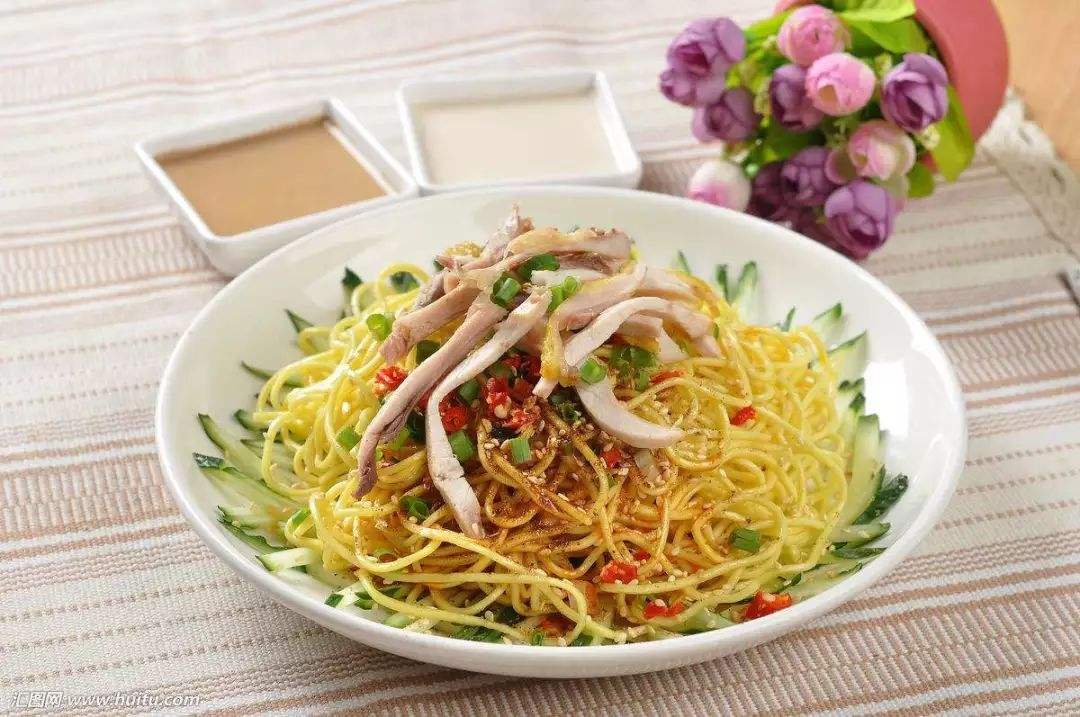 02、猪皮炖红枣 Stewed Pork Rind with Red Dates
制作原料:猪皮250一500克,红枣10~20枚,盐或糖等调味品适量。
Ingredients: 250-500 grams of pork rind, 10-20 pcs of red dates, appropriate amount of salt and sugar.
制作方法:将猪皮洗净去毛,切成小块,与红枣、适量红糖或盐隔水同炖半小时左右即可。
Instruction: Wash the pork rind to remove hair, cut into small pieces, and stew with red dates, brown sugar, or salt in water for about half an hour.
适宜人群:适用于血小板减少、血小板减少性紫癜、慢性出血、血友病、齿龈出血、贫血及咽喉肿痛、少阴下痢者。
Suitable for people with chronic bleeding, hemophilia, bleeding gums, anemia, and sore throat.
禁忌:湿热痰壅者忌食。
Not suitable for those who suffer from damp heat and phlegm.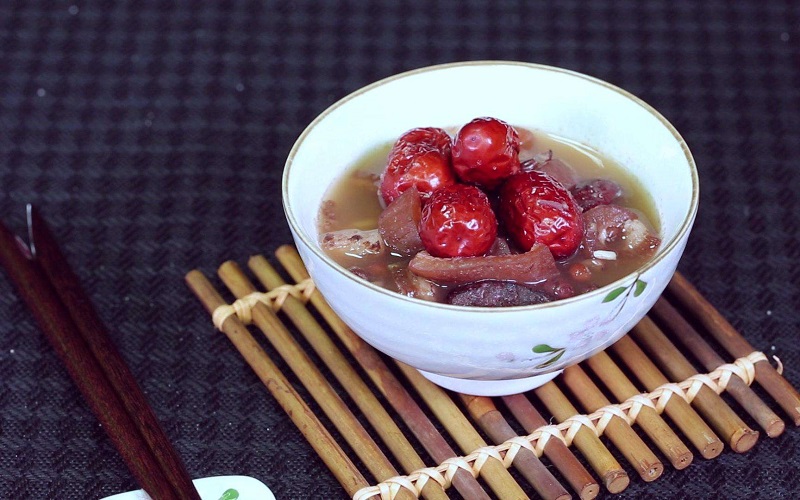 03、百合莲子蛋羹 Sweet Lily Lotus Seed with Eggs
制作原料:百合、莲子肉各50克,鸡蛋2~3个,冰糖适量。
Ingredients: 50 grams each of lily and lotus seeds, 2 to 3 eggs, and appropriate amount of rock sugar.
制作方法:先将整鸡蛋煮熟,去壳待用;百合、莲子肉洗净后,与鸡蛋同放入炖盅内,加适量冰糖,隔水炖半小时左右即可。
Instruction: Boil eggs, peel and set aside. Wash lotus and lily seed, then put inside the stew pot with the eggs, add appropriate amount of rock sugar, and simmer in water for about half an hour.
适宜人群:可用于妇女更年期综合征,还可抗衰老、补虚损。还适用于慢性气管炎,肺热咳嗽,劳嗽咯血及心肾不交或心肾两虚之失眠、心悸、遗精、尿频、白浊、带下,脾虚泄泻者。
Suitable for women's menopausal syndrome and can also be used for anti-aging and tonic. It is also suitable for chronic bronchitis, cough with lung heat, hemoptysis due to exertion, insomnia, palpitations, spermatorrhea, frequent urination, turbidity, diarrhea due to spleen deficiency and diarrhea due to heart and kidney failure or deficiency of the heart and kidney.
禁忌:百合性寒,故风寒咳嗽者忌食。 Due to lily seed is cold in nature, it is not suitable for people who have a cough.
总结:以上为大家介绍了大暑养生的一些方法,除此之外,还介绍了一些适合大暑时节的养生食谱,这些仅供大家参考。感兴趣的朋友可以根据自己的喜好尝试做一下,还可以与家人一起分享。
Above were some methods for health preservation during Great Heat. People who are interested can give it a try on your own preferences, or feel free to share these useful tips with your friends and family.


德成行(TakShingHong.com)始于1979年,是美洲最大参茸药食商城,美洲第一滋补养生品牌。42年来坚持为每位顾客提供物超所值的美国花旗参、冬虫夏草、金丝燕窝以及最全品类的中药和滋补品,让每个人都能轻松受益更健康的生活。
T S EMPORIUM (www.tsEMPORIUM.com) – established in 1979, we are the largest purveyor of American Ginseng and Traditional Chinese Medicine in the Americas and the No. 1 Chinese nutritional goods brand in the Americas.
For 42 years, we have insisted on providing every customer with "Excellent Value" for American Ginseng, Cordyceps, Golden Swiftlets' Nests, and the most comprehensive line of Traditional Chinese Medicine, so that everyone can easily benefit from a healthier life!
The above content is provided as general knowledge by T S EMPORIUM but with the articles comprehensively compiled from various reputable sources. We sincerely hope it is useful to you and you will continue to read these helpful contents from our emails and on our website.
赞 (

7

)