2022年2月19日,农历庚子年正月廿六,太阳到达黄经330°,是二十四节气的雨水。
February 19 is Rain Water,  the 2nd of the 24 Solar Terms.
古人说:"东风解冻,冰雪皆散而为水,化而为雨,故名雨水。" 甘雨时降,万物以嘉。
Our ancestor said: "When the east wind thaws, the ice and snow are scattered and turned int water, which turns into rain, hence the name of this solar term, Rain Water." When the rain falls, all things are blessed.
雨水后,人们则明显感到春回大地,春暖花开和春满人间,沁人的气息激励着身心。那么,在雨水节气里当如何养生呢?
After Rain Water, people clearly feel that the spring is returning to the earth, the spring flowers are blooming and the world is full of spring, and the refreshing breath inspires the body and mind. So, how to maintain health in the rainy solar term?
起居有常 Maintain a regulated lifestyle
雨水时节天气变化不定,加上疫情原因,很容易引起人的情绪波动,及至心神不安,影响人的身心健康,对高血压、心脏病、哮喘患者更是不利。需要采取积极的精神调摄养生锻炼法,保持情绪的稳定。雨水时节,要保证起居有常,劳逸结合;全民抗疫时期,更要做好自我防护,保持身心健康。
The weather changes during Rain Water Solar Term, coupled with the cause of the epidemic, it is easy to cause emotional fluctuations, affecting people's physical and mental health, and it is even more unfavorable for patients with high blood pressure, heart disease, and asthma. It is necessary to take a positive mental adjustment and health exercise to maintain emotional stability. During the rainy season, it is necessary to ensure regular daily life and maintain work life balance; during the pandemic period, it is necessary maintain self-protection, physical, and mental health.
春捂防寒 Spring cover and prevent cold
雨水之后,空气中水分增加,导致气温不仅低,而且寒中有湿。这种湿寒的气候对人体内脏和关节有一定的影响。
After Rain Water, the moisture in the air increases, resulting in not only low temperature, but also cold and wet weather conditions. This wet and cold climate has certain effects on human internal organs and joints.
老人小孩要"春捂",预防"倒春寒"。年老体弱者勿用冷水,洗完头要及时吹干。饮食保持中庸,吃热饭热菜,不吃或慎吃辣椒等性温、性热的食物为宜。有些人认为白酒能够预防新冠肺炎,其实并不然,白酒并不能够预防新冠肺炎,雨水节气还是不喝或少喝白酒为好。
The elderly and children should "cover in spring" to prevent "spring cold." Avoid using or drinking cold water for the elderly and infant and dry your hair in time after washing. It is advisable to maintain a moderate diet, eat hot meals and hot dishes, and avoid or cautiously eat warm and hot foods such as peppers. Some people think that liquor can prevent new coronary pneumonia, but it is not the case. Liquor cannot prevent new coronary pneumonia. It is better not to drink or drink less liquor during the raining season.
调养脾胃 Nourish the spleen and stomach
雨水后天气转暖,风多物燥,早晚较冷,故应多吃新鲜蔬菜、多汁水果以补充人体水分。饮食上应少酸多甜,可选择韭菜、百合、山药、荸荠等。
The weather becomes warmer after Rain Water, the wind is drier, the morning and evening are colder, so you should consume more fresh vegetables and juicy fruits to replenish the body's fluid. Diet should consist of less sour and more sweet foods, and you can choose leeks, lily bulb, Chinese yam, water chestnuts, etc.
在精神调摄方面要静心寡欲、不妄作劳,以养元气。生活上顺应自然,保护生机,遵循自然变化的规律。这样便脾胃协调,可促进和调节机体新陈代谢,保证生命活动的协调平衡。
In the aspect of spiritual adjustment, one should keep calm and have few desires, and do not work rashly, as to nourish the vitality. In life, conform to nature, protect vitality, and follow the laws of natural changes. This way, the spleen and stomach are coordinated, which can promote and regulate the body's metabolism and ensure the coordination and balance of life activities.
雨水时节因为降雨的增多,湿气加重,湿邪易困扰脾胃,有句古话叫:"千寒易除,一湿难去。所以,在这一时期,一定要注意对脾胃的养护,健脾利湿这四款食疗方是不错的选择。
During Rain Water, due to the increase of rainfall, the humidity is aggravated, and dampness is easy to trouble the spleen and stomach. There is an old saying, "A thousand colds are easy to get rid of, but a dampness is difficult to get rid of." Therefore, during this period, we must pay attention to the maintenance of the spleen and stomach and strengthen the spleen. These four therapeutic recipes for dampness are good choices.
砂仁陈皮鲫鱼汤 Tangerine Peel and Carp Soup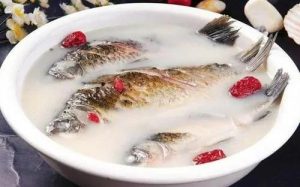 食材:鲫鱼、砂仁、陈皮、香菜、姜
Ingredients: Carp fish, fructus amomi villosi, tangerine peel, cilantro, ginger
做法:鲫鱼处理干净慢火煎至两边微黄,砂仁碾碎,陈皮浸泡去瓤,香菜洗净切碎;鲫鱼与生姜一起放入砂锅内,加适量清水煮沸后改小火慢煮两小时,加香菜及盐油调味即可。
Cooking instruction: Clean the carp fish and panfry on low heat until both sides are slightly yellow. Crush the amomi villosi, soak the dried tangerine peel to remove the flesh, wash and chop the cilantro; put the carp fish and ginger together in a casserole, add an appropriate amount of water to boil, then change to low heat and cook for two hours, add cilantro and salt for taste.
功效:健脾祛湿,鲫鱼有温补脾胃、利尿消肿的作用,砂仁则可化湿健胃,用于脾胃湿滞引起的呕吐。
Efficacy: Invigorating the spleen and removing dampness, carp fish has the effect of warming the spleen and stomach, diuretic and reducing swelling, and amomi villosi can dispel dampness and strengthen the stomach and is used for vomiting caused by dampness in the spleen and stomach.
莲子薏苡仁排骨 Pork Ribs with Lotus Seeds and Dried Pearl Barley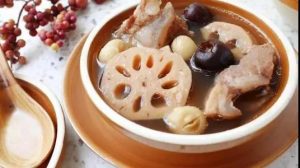 食材:莲子、薏苡仁、排骨、冰糖、姜蒜、花椒、盐、黄酒、麻油
Ingredients: Lotus seeds, dried pearl barley, pork ribs, rock sugar, ginger, garlic, peppercorn, salt, rice wine, sesame oil
做法:莲子浸泡去皮心,与薏苡仁一起炒香、捣碎煎汁,排骨洗净后放入汁中,入锅加姜蒜、花椒煮至七成熟,去泡沫捞出,晾凉备用;汤换锅加冰糖、盐文火煮浓,放入排骨,烹入黄酒翻炒,淋入麻油即可。
Cooking instruction: Soak lotus seeds, peel outer layer and remove the germ, stir-fry together with dried pearl barley. Wash pork ribs and put them in with lotus seeks and dried pearl barley, add ginger, garlic, and peppercorn to the pot and cook until they are mildly cooked. Remove the foam and let cool for later use. Place soup into a new pot, add rock sugar, salt to a simmer, and cook until thick, add pork ribs, rice wine, and stir fry, then pour in the sesame oil and ready to serve.
功效:补气健脾,脾虚气弱者可多吃。
Efficacy: Invigorate the spleen, those with weak spleen and qi can eat more.
猪肚术槟粥 Pork Belly Porridge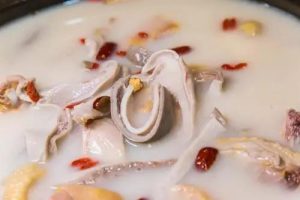 食材:猪肚、白术、槟榔、生姜、粳米
Ingredients: Pork belly, atractylodes (bai zhu), betel nut, ginger, japonica rice
做法:猪肚洗净切块,白术、槟榔药袋装好,与猪肚一起放入锅中加水煮沸后改用文火煎煮约1小时后去药包;加入粳米熬粥,熟后加盐调味即可。
Cooking instruction: Wash the pork belly and cut into pieces, put the atractylodes and betel nut in medicine bag, put them into a pot together with the pork belly, add water to boil, then switch to simmer for about 1 hour and then remove the medicine bag. Add japonica rice to make porridge, add salt for taste and ready to serve.
功效:健脾养胃,猪肚能健脾胃,治疗泄泻、小儿疳积等症,白术能甘温益气、除脾湿,槟榔行气利水,治疗水肿、湿毒脚气。
Efficacy: Pig belly can invigorate the spleen and nourish the stomach, treat diarrhea, infantile malnutrition embolism. Atractylodes can warm and nourish qi, remove dampness in the spleen, betel nut promotes qi and diuresis, and treats edema, and dampness.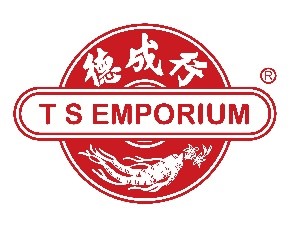 德成行(tsEMPORIUM.com)始于1979年,是美洲最大参茸药食商城,美洲第一滋补养生品牌。40多年来坚持为每位顾客提供物超所值的美国花旗参、冬虫夏草、金丝燕窝以及最全品类的中药和滋补品,让每个人都能轻松受益更健康的生活。
T S EMPORIUM ( www.tsEMPORIUM.com) – established in 1979, we are the largest purveyor of American Ginseng and Traditional Chinese Medicine in the Americas and the No. 1 Chinese nutritional goods brand in the Americas. Since 1979, we have insisted on providing every customer with "Excellent Value" for American Ginseng, Cordyceps, Golden Swiftlets' Nests, and the most comprehensive line of Traditional Chinese Medicine, so that everyone can easily benefit from a healthier life!
赞 (

3

)