惊蛰,是一年中的第三个节气。"立春"以后,滚滚春雷惊醒了蛰伏在泥土中冬眠的各种昆虫,过冬的虫卵开始孵化。传统医学认为,春属木,入味为酸,对应五脏为肝,顺应自然界生长生发之规律,春季容易肝风、肝火妄动,易引起心脑血管病及高血压病。
The "Waking of Insects" is the 3rd of 24 Solar Terms. After "Spring Begins," the rolling spring thunder woke up various insects dormant in the soil and hibernated, and the eggs of the wintering insects began to hatch. Traditional Chinese Medicine stated that spring belongs to woods, which tastes sour, and corresponds to the five internal organs as liver. It conforms to the laws of natural growth and hair growth. In spring, it is easy to cause liver winder and live fire to act rashly, which can easily cause cardiovascular and cerebrovascular diseases and hypertension.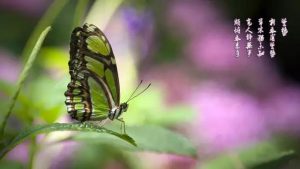 惊蛰节气前后,冷暖空气交替开始频繁,由于华南属于典型的海洋性亚热带季风气候,此时岭南地区冷空气过后,暖湿气流迅速反攻,气温回升,空气中水分子达到了饱和状态的时候,碰到冰冷的物体,就会在物体表面形聚成水珠,形成了岭南地区特有的天气现象,回南天。这种潮湿的天气往往会引起或加重呼吸系统,消化系统,皮肤系统和骨关节系统等多方面疾病。
Prior and after The Waking of Insects, the alternation of cold and warm air began to occur frequently. Since South China belongs to a typical marine subtropical monsoon climate, after the cold air in the Lingnan area passes, the warm and humid air quickly counterattacks, the temperature rises, and the water molecules in the air reach saturation. Cold objects will form water droplets on the surface of the object, forming a unique weather phenomenon in the Lingnan area, returning to the southern sky. This humid weather often causes or aggravates various diseases such as respiratory system, digestive system, skin system, and bone and joint system.
因此,惊蛰季节应当护肝健脾,少食酸性食物,适当食用一些具有健脾祛湿、护肝养胃作用的茶饮或汤粥来增强体质。
Therefore, during The Waking of Insects, it is necessary to protect the liver and spleen, eat less acidic food, and properly consume some tea or soup porridge that has the functions of strengthening the spleen and removing dampness, protecting the liver, and nourishing the stomach to enhance physical fitness.
茶饮 Tea
枸杞茶 Goji Berry Tea
取枸杞10克,加热水冲泡即可。此茶适于肝肾亏虚、病后体虚、老年体衰者饮用。对长期使用计算机而引起的眼睛疲劳尤为适宜。
Take 10 grams of Goji Berry, add hot water and brew. Goji Berry tea is suitable for people with liver and kidney deficiency, physical insufficiency after illness, and elderly people with physical infirmity. It is especially suitable for eye fatigue caused by long-term computer use.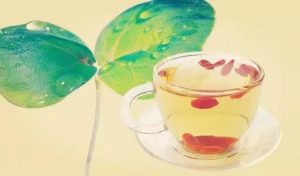 蜜糖红茶 Honey Black Tea
红茶叶5克,放保温杯内,以沸水冲泡,加盖焖片刻;调适量蜂蜜、红糖。每日饭前各饮1次,能温中养胃。此茶适用于春天肝气偏旺,脾胃功能不佳。
Put 5 grams of black tea leaves in a thermos cup, brew with boiling water, cover, and simmer for a while; adjust appropriate amount of honey and brown sugar. Drink once a day before meals to warm and nourish the stomach. This tea is suitable in spring when the liver qi is too strong, and the spleen and stomach function is weak.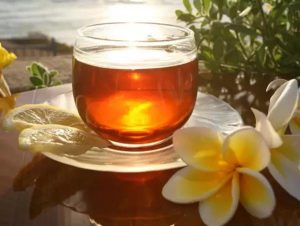 护肝花茶 Liver Protection Floral Tea
黄芪6克,玫瑰3克,佛手片3克,混合为花茶,日间冲泡饮用。能缓解疲劳嗜睡、脾胃虚弱、食欲不振、表虚自汗等症状,起到中气通畅,养肝的目的。
6 grams of radix axtragali, 3 grams of rose, 3 grams of finger citron fruit, mixed into scented tea, brewed and drink during the day. It can relieve symptoms such as fatigue and lethargy, weakness of the spleen and stomach, loss of appetite, and spontaneous perspiration, and achieve the purpose of smoothing the qi and nourishing the liver.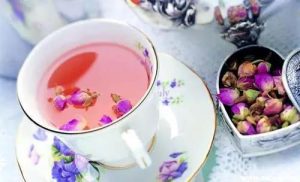 百合莲子银耳茶 Lily Lotus Seeds and White Fungus Tea
莲子6粒,银耳4克,大枣4克,百合4克,糖20克,水200毫升。将所有材料用水洗净,百合、大枣、银耳泡软,备用。先煮莲子至半熟,去掉水,再放入百合、红枣加水同煮。等锅中三种材料均煮烂后,放入银耳、糖,待糖溶解后熄火,放温后即可食用。此茶有养肝和胃的作用,对促进脾胃功能与养肝有不错的作用。
6 pieces of lotus seeds, 4 grams of white fungus, 4 grams of red dates, 4 grams of lily bulb, 20 grams of white sugar, 200ml of water. Rinse all ingredients with water, soak lily bulb, red dates, and white fungus until soft, set aside for later use. Boil the lotus seeds until half-cooked, drain the water, then add lily bulb and red dates and cook with water. After the three ingredients in the pot are all boiled, add white fungus and sugar, turn heat off after sugar dissolves, and let warm before enjoying. This tea has the effect of nourishing the liver and stomach and has a good effect on promoting the function of the spleen and stomach and nourishing the liver.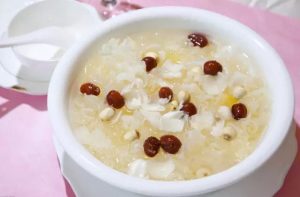 汤水 Soup
淮山薏米生鱼汤 Radix Dioscorea and Pearly Barley Fish Soup
材料:生鱼1条、淮山15克、薏米15克、陈皮一小块、瘦肉100克、姜3片。
Ingredients: 1 fish, 15 grams of radix dioscorea, 15 grams of dried pearl barley, 1 small piece of tangerine peel, 100 grams of lean pork, 3 slices of ginger.
做法:洗净宰好的生鱼,斩成几段;淮山和薏米洗净;陈皮用清水泡软,刮去白瓤;拍裂一小块姜,热锅,用姜块在锅上擦一遍,放两汤匙油,待油六成热下鱼,煎至微黄;煮沸瓦煲里的清水,放入煎好的生鱼和其它材料,武火煮沸,转中小火煲一个半小时,下盐调味即可品尝。
Cooking instruction: Wash the fish and cut into several sections; wash the radix dioscorea and pearl barley; soak the dried tangerine peel in water to soften, scrape off the white flesh; crack a small piece of ginger, heat the pot, and rub pot with ginger. Put two tablespoons of oil, when the oil is 60% hot, put the fish, and fry until lightly yellow; boil the water in the clay pot, add fried fish and other ingredients, bring to boil over high heat, turn to medium and low heat and simmer for an hour and a half, add salt for taste and ready to serve.
功效:健脾去湿,养阴补虚,解春困。
Efficacy: Invigorating the spleen and removing dampness, nourishing yin and tonifying, relieving spring fatigue.
淮山赤小豆茯苓薏仁粥 Radix Dioscorea Red Beans Pearl Barley Porridge
春天肝气旺易伤脾,所以要吃些祛湿的粥品以养脾,可用淮山赤小豆茯苓薏仁煲粥吃。
In spring, when the liver qi is prosperous, it is easy to damage the spleen, so it is necessary to consume porridges that dispel dampness to nourish the spleen.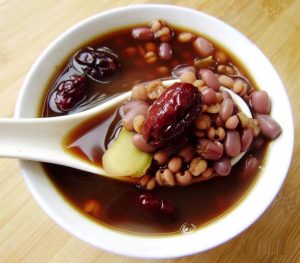 Ingredients: 10 grams each of radix dioscorea, red beans, tuckahoe, dried pearl barley, and 1 piece of tangerine peel.
做法:材料洗净后加在一起煲粥,不要加米,消化不良、脾虚、湿盛者加盐吃咸的;气血亏虚者可加少量红糖吃甜的。
Cooking instruction: After washing the ingredients, add them together to make porridge. Do not add rice. People with digestion, spleen deficiency, and dampness can add salt; people with qi and blood deficiency can add a small amount of brown sugar to eat sweet.
功效:此粥具有祛湿健脾之功效。
Efficacy: This porridge has the effect of removing dampness and strengthening the spleen.
荠菜豆腐汤 Shepherd's Purse Tofu Soup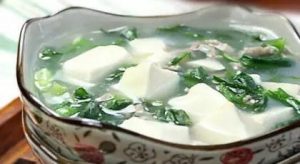 材料:荠菜150克、豆腐150克、干香菇20g等。
Ingredients: 150 grams of shepherd's purse, 150 grams of tofu, 20 grams of dried shiitake mushrooms
做法:豆腐切方块,香菇用温水泡发切条、荠菜洗净切段备用。加入适量水,烧开后放入豆腐、香菇,调入盐,搅拌均匀,盖上锅盖。加入水淀粉勾芡,待汤汁变浓后淋入芝麻油即可。
Cooking instruction: Cut the tofu into cubes, soak the shiitake mushrooms in warm water and cut into strips, wash the shepherd's purse, and cut into sections for later use. Add an appropriate amount of water, bring to boil, add tofu, mushrooms, add salt, stir well, and cover the pot. Add water starch to thicken and pour in sesame oil after the soup becomes thick.
功效:常吃荠菜可利肝气,能够明目,吃荠菜对脾气暴躁、血压增高的高血压患者有好处;有凉血止血的作用。豆腐与荠菜搭配,不仅十分美味,还很适合春日养生防病。
Efficacy: Eating shepherd's purse often can benefit liver qi and improve eyesight. Eating shepherd's purse is good for hypertensive patients with irritable temper and increased blood pressure; it has the effect of cooling blood and stopping bleeding. The combination of tofu and shepherd's purse is not only very delicious, but also very suitable for spring health and disease prevention.

德成行(tsEMPORIUM.com)始于1979年,是美洲最大参茸药食商城,美洲第一滋补养生品牌。40多年来坚持为每位顾客提供物超所值的美国花旗参、冬虫夏草、金丝燕窝以及最全品类的中药和滋补品,让每个人都能轻松受益更健康的生活。
T S EMPORIUM (?www.tsEMPORIUM.com) – established in 1979, we are the largest purveyor of American Ginseng and Traditional Chinese Medicine in the Americas and the No. 1 Chinese nutritional goods brand in the Americas. Since 1979, we have insisted on providing every customer with "Excellent Value" for American Ginseng, Cordyceps, Golden Swiftlets' Nests, and the most comprehensive line of Traditional Chinese Medicine, so that everyone can easily benefit from a healthier life!
为方便广大客户寻医问诊,德成行更推出线上"德健康"栏目,邀请专业中医师,定期为真实案例提供在线问诊或咨询专业意见,详情请关注德成行公众号。
For medical consultations, T S EMPORIUM has launched an online "TSE Health" column, inviting Traditional Chinese Medicine practitioners to regularly provide online consultations, or consulting professional opinions for real cases. For detailed, please follow T S EMPORIUM official account.

赞 (

3

)